Strava is a service which bills itself as 'the social network for athletes'. It allows users to store and share details of their activities, usually location records from runs or bike rides. Through sharing users can compare their performance and even (sometimes controversially1,2,3) compete over 'segments'. Engineers at Strava are not ignorant to the value of their dataset. Staff in their 'labs'4 are using the data to increase the size of their user base and sustain users engagement with their service.
Recently they released a global heatmap5 which they claim contains data from one billion activities and three trillion recorded locations. Given the size of the dataset, the lack of named users and the provision of (optional) 'privacy zones' in the Strava service5 you might expect this to be an interesting piece of internet ephemera, mostly of interest to runners and cyclists planning their next route. However users were quick to find other valuable information in the dataset.
As many global news outlets noted – not only the location, but also the layout of sensitive military sites were unwittingly revealed by the activities of fitness conscious personnel6,7. The suggestion from Strava8, the press and military leadership – military personnel should make use of privacy features, not use activity tracking apps in these places and don't worry, Strava will work with military and government officials to filter 'sensitive data'.
Nobody seems to be asking if Strava really needs to collect and store this location information. Can a service survive which provides locally calculated segment times, performance figures and comparative analyses without the need for users to reveal full location information in the first place? Is it possible to extract societal and monetary value from location time series without crossing security and privacy barriers? My answer is yes, and that's what my research is about.
1http://nymag.com/daily/intelligencer/2014/09/did-a-cycling-app-contribute-to-bike-death.html
2http://www.latimes.com/business/la-fi-tn-strava-dopers-20160415-story.html
3 http://www.mamilsports.com/cycling/strava-beef-goes-viral-aussie-cyclists-trade-insults-kom-leaderboard/
5 https://labs.strava.com/heatmap/#7.00/-120.90000/38.36000/hot/all
6 https://support.strava.com/hc/en-us/articles/115000173384-Privacy-Zones
7 https://edition.cnn.com/2018/01/28/politics/strava-military-bases-location/index.html
8 https://www.theguardian.com/world/2018/jan/28/fitness-tracking-app-gives-away-location-of-secret-us-army-bases#
9 https://blog.strava.com/press/a-letter-to-the-strava-community/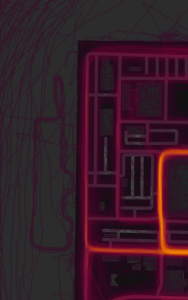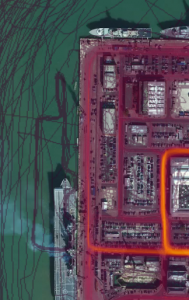 Tracks in the Strava global heatmap created by users exercising on the decks of ships moored at Portsmouth naval base, UK.
©Strava 2017 ©Mapbox ©OpenStreetMap
James Pinchin, Transitional Assistant Professor, Horizon Digital Economy Research