Earlier on in the week Horizon Transitional Assistant Professor, Horia Maior, was named by the Foundation for Science and Technology as one of their 2002 Future Leaders.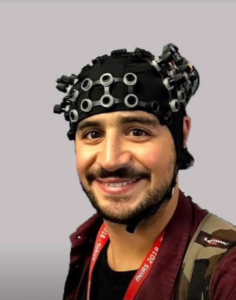 Horia explained:
"I am very excited about joining the Future Leaders 2022 cohort. The Foundation Future Leaders programme brings together a cohort of around 30 mid-career professionals over the course of a year, with approximately 10 representatives each from the research community, industry, and the civil service and wider public sector. Over a 12-month period, the group meet and discuss with senior figures from government, parliament, universities, large industry, SMEs, research charities and others (more information here https://www.foundation.org.uk/Future-Leaders/Foundation-Future-Leaders-2022).
During my research career I have acquired a good understanding of how research and innovation are used in academia, and the challenges the sector is facing in a rapidly changing world. The Future Leaders program is an excellent opportunity for me to make links and understand how science, research and innovation are used not only in academia, but also in other sectors, including the government, wider public sector, and industry; and how a diverse range of stakeholders can support and enrich policy development.
I see the opportunity provided by the Foundation of Future Leaders program as a platform to generate an ongoing, open dialog with a group of people from diverse backgrounds and experiences, including government, industry, and academia. I will make use of meetings, drop-in sessions and conference time offered through the Foundation of Future Leaders program to lead pin-point discussions that will address research challenges within academia in general, as well as in-depth discussions about some of our ongoing  work in Horizon, the Cobot Maker Space and the Trustworthy Autonomous Systems Hub at the University of Nottingham.
I am very excited to join and engage in discussions led by other researchers, industry practitioners, civil servants, parliamentary members and members of the wider public sector. I will try to be active in writing and publishing blogs and social media posts about the events and ongoing discussions. Moving forwards beyond this program, I would like to build a network of trusted colleagues through the programme and maintain an active link that will facilitate knowledge exchange and impact across multiple sectors."