The ACM CHI Conference on Human Factors in Computing Systems is the premier international conference of Human-Computer Interaction (HCI). CHI – pronounced 'kai' – annually brings together researchers and practitioners from all over the world and from diverse cultures, backgrounds, and positionalities, who have as an overarching goal to make the world a better place with interactive digital technologies.
CHI 2022 is structured as a Hybrid-Onsite full conference which runs from April 30–May 5 in New Orleans, LA.
Two Horizon Transitional Assistant Professors will be presenting their work at CHI 2022.
Horia Maior: Moving from Brain-Computer Interaction to Personal Cognitive Informatics.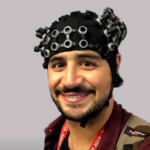 Consumer neurotechnology (a method or device in which electronics interface with the nervous system to monitor or modulate neural activity) has arriving even as algorithms for user state estimation are still being actively defined and developed. Consumable wearables that aim to estimate cognitive changes from wrist data or body movement are now readily available.  But does this data help people? It's now a critical time to address how users could be informed by wearable neurotechnology, in a way that's relevant to their needs and serves their personal well-being. This special interest group will bring together the key HCI communities needed to investigate this topic: personal informatics, digital health and wellbeing, neuroergonomics, and neuroethics.
In addition, Horia also presented: The Impact of Motion Scaling and Haptic Guidance on Operator's Workload and Performance in Teleoperation.
Neelima Sailaja: Where lots of people are sharing one thing, as soon as one person does something slightly different it can impact everyone: A Formative Exploration of User Challenges and Expectations around Sharing of Accounts Online.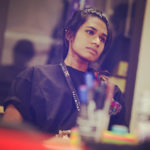 Users often share their accounts with others; however most accounts support only single user interactions. Within industry, Netflix and Disney+ providing profiles within accounts are evidence that popular services are identifying and responding to user needs in this context, however the solutions here are mostly naïve. Within academia, while sharing of practices are of interest, the practicalities of dealing with them are yet to be studied.  Neelima's paper highlights the said gap in research and presents preliminary findings from a series of focus groups that revealed practical challenges and future expectations around the experience of sharing, social implications and user privacy. Research in this area will continue by integrating these findings with expert interviews – held with 'makers' who research and work on such technologies. The outcome will be a set of holistic design recommendations that form a practical guide for support around account sharing.